Vietnam February 2020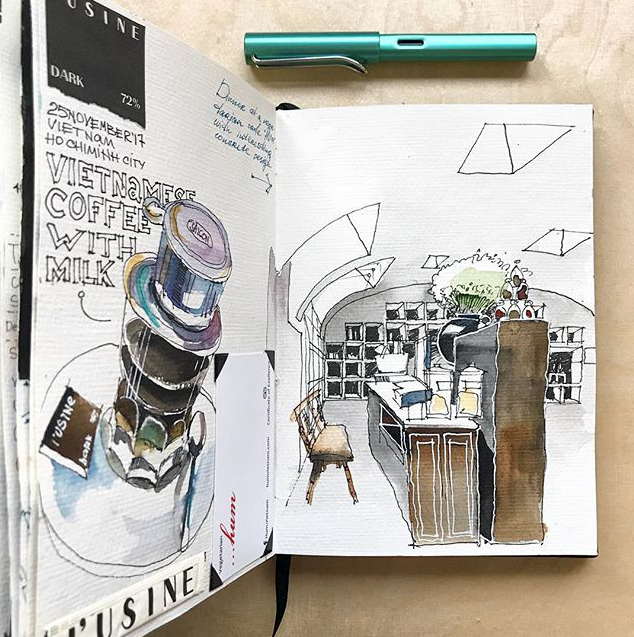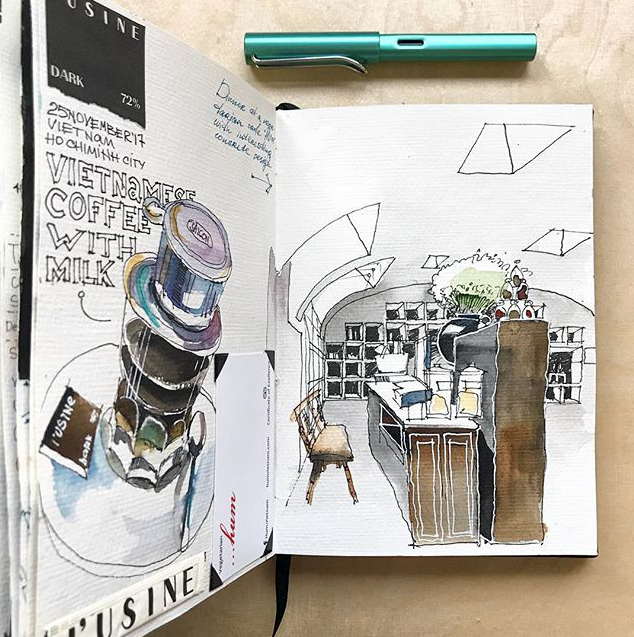 Vietnam February 2020
Full info here https://artfoodculture.com/vietnam#/vietnam-retreat-february-2020/
Alena Kudriashova of "My Squiggles.com" fame is your Sketch tutor for an 11 day Retreat in Hoi An, Vietnam February 17th - 27th 2020. Your host Anna Barnes of ArtFoodCulture (long term traveller to Hoi An, chef and artist) has built a network of contacts over the years who delight in giving our groups special attention. They take us off the tourist trail to experience locations that only a local can.
You will be staying in a locally run riverside hotel with pool, easy walking distance to the UNESCO Heritage town of Hoi An. Each morning Alena will give a Sketch Class, especially tailored to capture the stunning historical town of Hoi An, its people and culture. Alena will build lessons around the architecture, street scenes, the market, the river, and the crowds of people there.
She has developed a workshop program especially for this Retreat that will have you capturing Hoi An in a personally meaningful way. Alena believes that a sketchbook provides a wonderful place to keep records of places, events, people, the weather and smells. She will teach you how to capture your meaningful moments by weaving them into the lines of every sketch. You will delight in the process as we complete our sketches on location.
We have chosen sketching locations that will encompass Hoi An and embrace slow responsible travel. Emerald rice paddies and farmers at work, blooming lotus fields, bustling markets, historic Chinese Assembly Halls, Buddhist Pagodas, Vietnamese coffee houses, the famous Japanese Bridge, Marble Mountain and the ancient Cham ruins, Mi Son are all on offer.
One of the many highlights will be visiting Linh's family home. She is a long time friend of Anna's, a mother and wonderful cook. She and her husband run an Eco herb and fish farm on the property. You will have a hands on cooking class with her and spend the afternoon sketching and relaxing amongst the water coconut palms. Another highlight will be visiting one of the early morning fish markets and experiencing the energy and movement of this vibrant culture.
Alena will guide you with your sketching and is looking forward to teaching in such a fascinating environment. Meals are included, and Anna (chef of 30 years) will be taking you to her favourite places from the busiest of street food vendors where only the locals go, to the loveliest of Vietnamese restaurants in the Ancient town. You will experience many different styles of Vietnamese cuisine. Plenty of time will also be spent enjoying the lantern lit streets and the balmy evenings by the river.
About Alena Kudriashova:
Alena Kudriashova, is an architect and an urban sketcher from Russia, currently based in Singapore. She brings her sketchbook wherever she travels, documenting places and things happening to her. In the modern world where we are overwhelmed by vast amounts of information, where snapping a picture has become so easy, she felt the necessity to create something that will help her remember things that happened to her.
A sketchbook provides exactly that, keeping a record of places, events, people, and even weather and smells. All of it is woven into the lines of every sketch, making it the most secure place for keeping memories.
Her sketches are bursting with stories. Each page has a variety of vignettes, motifs & designs, and found objects from the places she visits. Alena will show us how to practice "extreme sketching". We will go out on location everyday and capture the moments and experiences that have personal meaning to us whilst immersing ourselves in the delightful culture of Hoi An.
More about Alena Here
Alena's Instagram Here
Anna has asked Alena to be the principle sketch tutor for this trip because of her strong style and capable approach. She has confidence and energy that transposes well on her sketchbook pages. She has previously captured the essence of Vietnam beautifully on a solo trip, and is highly experienced with sketching SE Asian locations. She runs workshops and classes in her home city of Singapore. Anna looks forward to her sharing Alena's teaching talents with you.
See Alena's Vietnam Sketchbook Here

Please note:
A non-refundable deposit of $500.00 per person is required in order to secure your reservation. The balance of $3400 is due 120 days prior to departure date, 17th October 2019. (single supplement extra $400). All prices in AUD.
Bookings close October 17th 2019 (unless sold out already). Full Balance due.
If you have paid your deposit, then your reservation will be assured. The retreat is guaranteed to go ahead if minimum numbers are reached by the booking deadline. For guests who have a reservation assured, DO NOT proceed with booking your air travel and organising your visa and insurance until we have contacted you. (In the rare case that minimum numbers are not reached, and a retreat is cancelled, then your deposit will be returned in full).
We can recommend a Sydney based Vietnam specialist Travel Agent to take care of your airfares, visa and travel insurance if you are departing from Australia. Let us know if you would like details.
Travel insurance is mandatory and a copy must be supplied to us before commencement.
For Extra nights, add ons to your itinerary within Vietnam, VIP Airport service, private transfers to your hotel, and tours to neighbouring countries please contact our trusted South East Asian Specialists Khiri Travel at sales.vietnam@khiri.com
For the full itinerary or questions please email Anna Barnes at ArtFoodCulture.
To reserve your spot, please email Anna. She will send payment method details.
phone: (+61) 490345782
Cost:
$3900per person. (+Single supplement $400)AUD
Terms and Conditions HERE
Additional Information
We hope you are looking forward to what we are sure will be a trip of a lifetime. Before you embark on this Retreat, we ask you to consider the points listed below that relate to our Vietnam Retreats. This will ensure you understand what is involved and help you decide if this retreat is right for you.
To ensure that your retreat runs as smoothly as possible for you and your fellow retreat members, please consider the following aspects prior to confirming your arrangements.
While we believe that age is no barrier, please give special consideration to the fact that medical assistance and public infrastructure can be limited in Vietnam.
There may be long periods of physical activity, including walking, climbing of stairs, in/out of boats. Participants who will travel with a cane/walking stick may come across difficulties. It is our experience that using a cane/walking stick in these areas where there are rough and uneven surfaces, stairs to climb and high humidity/summer temperatures, becomes difficult.
Only limited meal options will be available. People with special dietary requirements can expect difficulties on these tours. Please understand that depending on the street food or market vendor you may be given very little or no meat/fish. Sometimes vegetarian options are not available. Allergies including mild intolerances to to life threatening anaphylactic reactions can not be accommodated on Vietnam retreats.
Your retreat includes 3/4 star accommodation facilities. The city and/or village power or water may at times be disrupted. This may mean the power, hot water, wifi, refrigeration or air-conditioning may not be available for short or long periods.
There will be long periods of driving on often rural and bumpy roads in vehicles ranging from tour coaches to taxi's.
Heat and humidity affects people in many different ways and a certain level of fitness is required in order to limit the effects. Please discuss how to manage Vietnams tropical summer heat with a health care professional.
Guides will endeavour to provide rest stops in your itinerary where possible. Please be advised that some days may have a more physical program than others.
We strongly urge you to be sure you can make it before you book. Please see our refund policy in Terms and Conditions.
Each guest will have different medical needs including decisions to be made with travel vaccinations. Please see a health care professional for advice.
Understand that taking out Travel Insurance is compulsory and a copy must be supplied to the organisers prior to commencement of the retreat.
This is a non smoking retreat. If you are a smoker we request you smoke well away from the group off the property, and do not inconvenience the group in any way.
The Retreat commences at 4pm 17th February at the Hotel in Hoi An, Vietnam. Address will be supplied at time of booking (check in time 2pm or earlier by arrangment). The best way get to Hoi An is to arrive via the International Airport in Da Nang (DAD). Then get a transfer by private car or taxi to Hoi An (about 30 mins). You will be greeted upon arrival. (details for private transfer available at booking). Retreat ends upon check out time at 10am 27th February 2019.
If you are comfortable with the above mentioned aspects of travelling we look forward to welcoming you on what is sure to be a unique and memorable experience.