Vietnam July 2019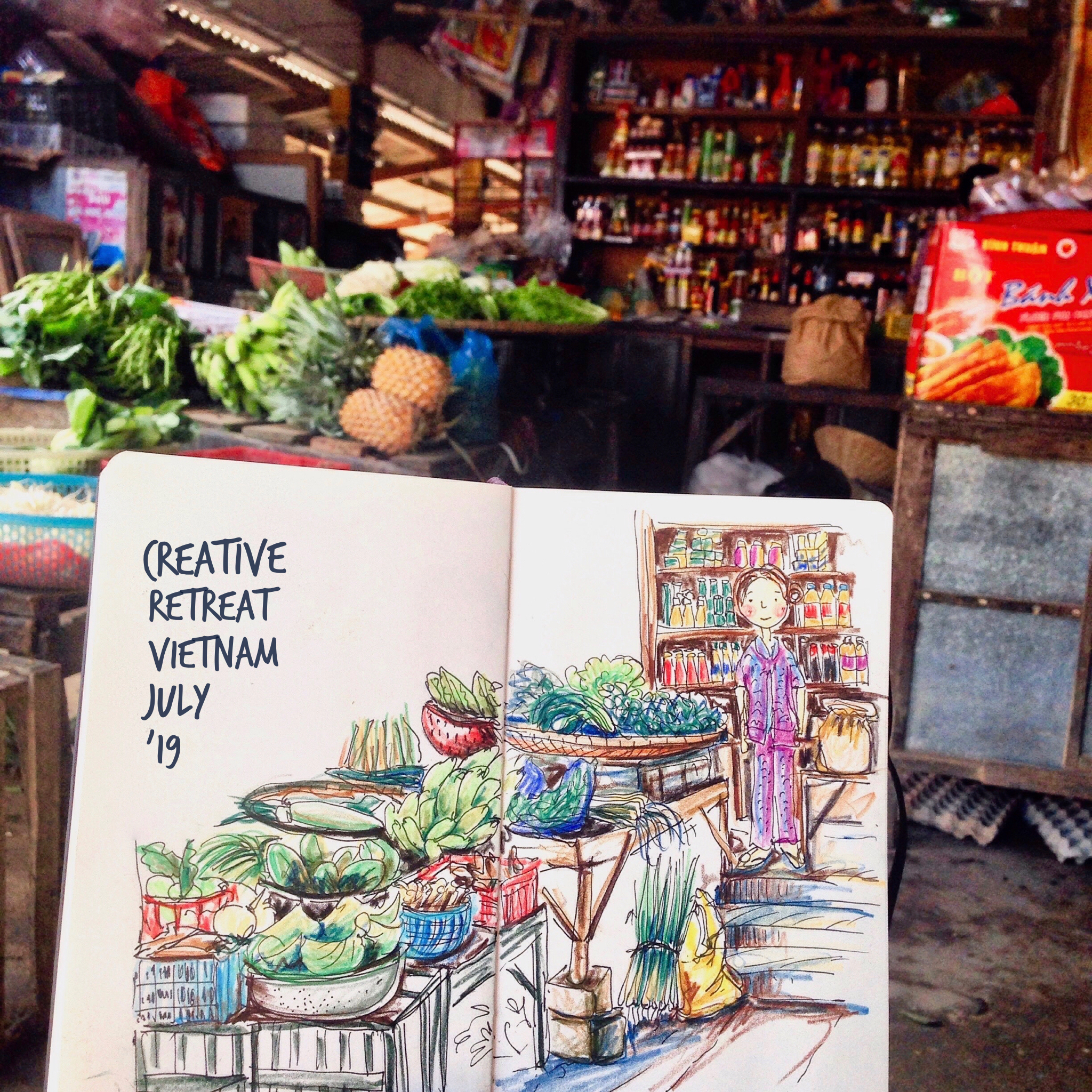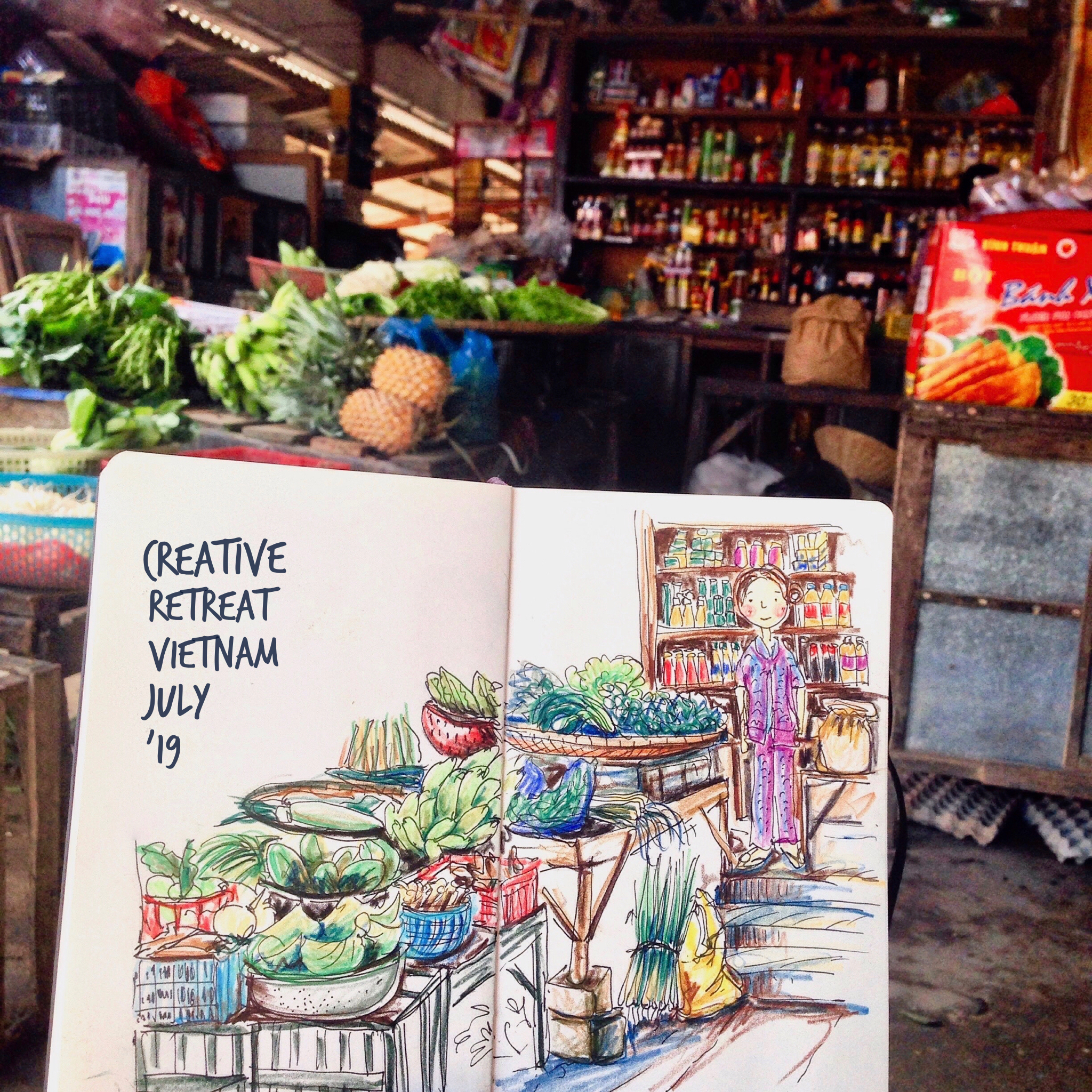 sold out
Vietnam July 2019
More information here
This retreat is going ahead.
Full payment now due.
Guests with a reserved spot, please proceed with purchasing Airline tickets, Visa and Travel Insurance.
To join us, please email Anna and she will send you payment method details. annasartfoodculture@gmail.com
ArtFoodCulture is hosting a Winter Escape Retreat for 10 days in Hoi An, Vietnam July 19-29th 2019. This Retreat is for everyone of any sex, age, race, religion or walk of life that would like to experience slow responsible travel with like minds. The emphasis is on living or rejuvenating (or starting) your creative life. Your host Anna Barnes (founder of ArtFoodCulture, long term traveller to Hoi An, chef and artist) has built a network of contacts over the years that delight in giving our Retreat guests special attention. They take us off the tourist trail to experience locations, activities and food that only a local can. Focus is on Creativity, Food and Culture.
You will be staying by the river, walking distance to the UNESCO Heritage town of Hoi An in a modern guest house with pool. Early Mornings are spent cycling through rice fields, enjoying yoga/meditation on the beach and having breakfast in the locals market (fresh fruit smoothies, delicious local coconut, noodles and Vietnamese coffee).
We meet for a Creative Workshop in the mornings, especially tailored to capture the stunning historical town of Hoi An, its people, lifestyle and the food. Your experienced guide Anna Barnes has chosen artisans and locations that will capture the essence of Hoi An. Lets meet the local artisans and learn some new skills. You will have a hands on cooking class with her good friend Linh. Another highlight will be visiting the home of specialty tofu makers and learning how the Vietnamese make tofu in a village home, for sale at the markets. A H'mong embroidery session on indigo dyed hand woven hemp cloth, a sunset photography lesson amongst the rice paddies and a bamboo carving workshop are also included. Anna has been sketching the market vendors in Vietnam for many years now, and will be showing you how to capture these scenes too! Please ask for the itinerary for the specific workshop schedule that is planned. We will be accompanied by our Vietnamese english speaking guide (and Annas good friend) for all our outings, so rest assured, you will have wonderful interactions with the locals! Bring your favourite creative tools for this experience. Your sketchbook, your watercolours, pencils, journal, camera, notebook. iPad or GoPro. What do you prefer to use to capture and tell stories?
We slow travel through the emerald Rice Paddies, to blooming Lotus Fields, farmers at work, water buffalos, ducks, bustling Markets, historic Assembly Halls, Buddhist Pagodas, quaint Vietnamese Coffee Houses, Organic Herb Gardens, the famous Japanese Bridge, fishing village and the ancient Cham ruins, Mi Son. One of the many highlights will be visiting Anna's good friend Linh in her family home. She is a mother and wonderful cook and she runs an eco herb farm on the property.
Your afternoons are free to explore your special interests. I expect some of you will stay by the pool, sketch, read and relax, or catch up on your spa treatments, visits to the tailor and shopping. Others will use your google map Anna has created just for this retreat to explore key locations in outlying rural regions of Hoi An by bicycle, or spend extra time in the Ancient Town's Historic buildings, Museums and Ateliers.
Evenings, a balmy walk along the river side enjoying the beautiful lanterns and night markets Hoi An has become famous for. Anna has chosen street food vendors and comfortable restaurants that serve delicious local Vietnamese cuisine. She will help with ordering food, conversing with restaurant staff and can answer your foodie questions. This is where we will enjoy night scenes, food and people. Discussions about the art, food and culture of the region will be encouraged. Book lists and movie recommendations will be given well before departure, and these will be discussed too. You will be escorted back to your hotel, or if you wish to find a bar or dancing venue recommendations are included in your comfort pack.
Hoi An is a safe, vibrant and fascinating town in Central Vietnam. It has become tourist friendly over the years, and all your travelling needs can be easily met, yet the town still retains an original authentic cultural atmosphere. It has attracted more and more artists, artisans and craftspeople from all over Vietnam. Anna looks forward to participating in the unique learning experiences with you that the wonderful residents of Hoi An offer.
The retreat will have a strong emphasis on taking care of our tourist footprint. Stainless Steel water bottles, bamboo straws and re usable ethically made cotton bags will be used, to reduce the use of single use plastic. Anna will also point out other ways we can take responsibility for our impact on the environment and the beautiful gentle people of Hoi An throughout the tour.
Dates:
19-29th July 2019.
Cost:
$3500 (land content)
Included:
Small group size. Minimum 5, maximum 8.
No extra is charged if you prefer a room to yourself (perfect for solo travellers).
10 nights accomodation in 3/4 star guesthouse with pool.
10 breakfasts
9 lunches
10 dinners (street food, markets vendors and restaurants )
Creative Workshops (8 sessions x 3 hours each facilitated by Anna Barnes and local artisans)
Comfort eco pack on arrival (organic soap, room spray, cotton shopping bag, bamboo straws etc)
Entry ticket to The Ancient Town and Creative Workshops in the historical buildings of Hoi An with Vietnamese English speaking guide.
Private bus trip to the historic Cham ruins, Mi Son with local guide.
Early morning boat trip to a working Fishing market and village.
Cooking Class and Basket Boat day at Linh's Eco Herb Farm.
Rice Paper making, Farm excursion and Lunch at the Organic Herb Gardens.
Sunset Photography Workshop.
Embroidery and Stitching Workshop with Local Vietnamese artisan.
Bamboo Workshop in traditional countryside setting.
Market Sketching workshop with Anna Barnes of @artfoodculture instagram
Market Tours.
8 yoga/meditation sessions.
Bicycle hire (bring your own helmet, or buy one on location and donate when you leave)
Not included:
International airfares
Visas
Travel insurance
Beverages- alcohol and imported soft drinks.
Personal expenses, laundry, minibar, tips etc.
Anything not mentioned in the Included list.
--------------------------------
For the full itinerary, bookings or questions please email Anna Barnes at
Please see Terms and Conditions Here
We can recommend a Sydney based Vietnam specialist Travel Agent to take care of your airfares, visa and travel insurance. Let us know if you would like details. Travel insurance is mandatory and a copy must be supplied before commencement.
For Extra nights, add ons to your itinerary within Vietnam, VIP Airport service, private transfers to your hotel, and tours to neighbouring countries please contact our trusted South East Asian Specialists Khiri Travel at sales.vietnam@khiri.com
Additional Information
We hope you are looking forward to what we are sure will be a trip of a lifetime. Before you embark on this Retreat, we ask you to consider the points listed below that relate to our Vietnam Retreats. This will ensure you understand what is involved and help you decide if this retreat is right for you.
To ensure that your retreat runs as smoothly as possible for you and your fellow retreat members. Please consider the following aspects prior to confirming your arrangements;
While we believe that age is no barrier, please give special consideration to the fact that medical assistance and public infrastructure can be limited in Vietnam.
There will be long periods of physical activity, including walking, climbing of stairs, in/out of boats. Participants who will travel with a cane/walking stick may come across difficulties. It is our experience that using a cane/walking stick in these areas where there are rough and uneven surfaces, stairs to climb and high humidity/summer temperatures, becomes difficult.
Only limited meal options will be available. People with special dietary requirements can expect difficulties on these tours. Please understand that depending on the street food or market vendor you may be given very little or no meat/fish. Sometimes vegetarian options are not available. Allergies including mild intolerances to to life threatening anaphylactic reactions can not be accommodated on Vietnam retreats.
Your retreat includes 3 star accommodation facilities. The city power or water may at times be disrupted. This may mean the power, hot water, wifi, refrigeration or air-conditioning may not be available for short or long periods.
There will be long periods of driving on often rural and bumpy roads in vehicles ranging from tour coaches to to taxi's.
Heat and humidity affects people in many different ways and a certain level of fitness is required in order to limit the effects. Please discuss how to manage Vietnams tropical summer heat with a health care professional.
Guides will endeavour to provide rest stops in your itinerary where possible. Please be advised that some days may have a more physical programme than others.
Unfortunately due to the logistics involved and upfront costs of this retreat we have a strict no refund policy regardless of circumstance. If you need to cancel we will happily help you to try and find a replacement for your spot, and if we can find one you will be refunded in full minus a service charge of $200 but only in the event that a replacement is found. We strongly urge you to buy travel insurance and to be sure you can make it before you book.
Each guest will have different medical needs including decisions to be made with travel vaccinations. Please see a health care professional for advice.
Understand that taking out Travel Insurance is compulsory and a copy must be supplied to the organisers prior to commencement of the retreat.
This is a non smoking retreat as we are staying in an intimate guest house. If you are a smoker we request you smoke well away from the group off the property, and do not inconvenience the group in any way.
If you are comfortable with the above mentioned aspects of travelling we look forward to welcoming you on what is sure to be a unique and memorable experience
If you have any hesitations please contact Anna at annasartfoodculture@gmail.com or +610490345782 or take a look at our other Sketch Holidays to explore alternative options.